From WikiTemp, the GBAtemp wiki
Title description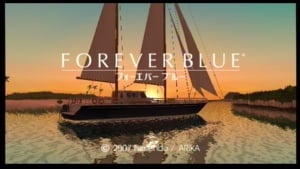 Region : Japan
Languages : Japanese
Game genre : Swimming, discovering, petting, relaxing
Wi-Fi : Yes, WFC
Release Group : Caravan
Size : 91 x 50MB
Release Name : Forever_Blue_Bug_Fixed_Version_ JPN_Wii-Caravan
Filename : cvn-fbfx
Raw : No
View nfo : here

Game description
Forever blue let you dive underwater and swim with many species and submarine vegetation.
Staff
The title song is interpreted by the New Zealand Hayley Westenra
Game help
The game will ask if you want to create a save data on the Wii. Choose the first button to do it.
Then you will be on the title screen, you will find two button : New game and Continue
Create a new character
It will ask for your name. choose one and click on the bottom right button. it will ask you if it is ok :
Remember this, it will be asked often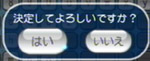 はい = Yes, and いいえ = No

1) you will be asked to choose a Man (男) or Woman (女).
2) choose your skin color : white, dusky, dark
3) choose the hair type : short or long
4) choose the hair color : brown or blond
5) and finally choose a place to save your character
Tutorial
Then comes the moving and menu tutorial :
Move the cursor to move the character in that direction. Face north, then east.
Push B to swim a little until it ask you to push (-) (minus) for Auto-swim
Then it will ask you to go to the option menu with directional button (left, right, or down).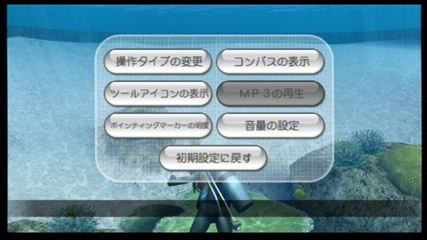 Control Type


Normal / Expert

Compass


Visible / Masked

Icon tool


Visible / Masked

MP3 from SD

Pointer opacity


- ||||||| +

Sound menu


BGM - |||| +
Sound Effect - |||| +

Reset setting

Go to your boat with the arrow icon in the ring menu. On the boat you can move with B button as for swimming.

On the bridge you can :
Speak with your friend
Sit on a chair and watch the see
Load MP3 from SD card
Go inside the cabin
Read some help on the side of the cabin.
After Coral Forest, you will have acces to Wifi menu
Inside the cabin you can :
Read mails
Save
Let the day time pass to morning or noon
See the fishes you found
Move the boat
Read the mail, and go out to speak with the girl again until she gives you the map and use it with (1) button. you can see the next location with the red cross.
Go down in the sea again, for the first mission.
Mission description
Lagoon
Click several times on the fishes to obtain their names and some informations.
Feed some of them with the menu icon Feed and you will be ready to go to the new area marked with the cross on your map.
Coral Forest
On Coral Forest, you can unlock a new place. Go south of the boat, there is a cave called the Blue Hole.
Go back to your boat. you will find your friend with a penguin (from africa?). Pet him until you get his name. It will unlock last menus and Wi-Fi access.
Swim by night
Read new mails. There is one with an highlighted menu inside it. it will let you point the map where you want to swim.
Billy will come and give you a flashlight to explore sea by night. He seems to want to see something (I cannot understand what). When he is happy you will heard a good noise, go back to the boat.
Wi-Fi Connection
The game has a multi-players capability. You can access it after the 2nd mission Coral Forest.
There are four menus :
Open the Wi-fi gate : invite your friends
Enjoy : join a friend's sea
Your friend code
List and add friends
Friend codes
Don't forget to PM the person you're adding so that they can add you too!
I don't have friend code yet, I'm just making the layout ready
Europe
| GBAtemp Name | Friend Code | NICKNAME | Time Zone | Game version | |
| --- | --- | --- | --- | --- | --- |
| Cyan | xxxx-xxxx-xxxx | Cyan | GMT +01 | Japan | PM |