Difference between revisions of "AKAIO"
From WikiTemp, the GBAtemp wiki
Line 135:
Line 135:
 
 
 

==Wifi Plugin==

 

==Wifi Plugin==

−

The WifiPlugin usage, options

+
 
 
 

==Links==

 

==Links==
---
Revision as of 20:14, 25 October 2008
AKAIO (AceKard All-In-One) is a custom firmware for the Acekard R.P.G., Acekard 2, and some support for Acekard+.
Latest release is AKAIO 1.2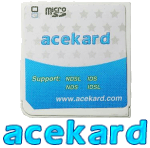 Features
Cheat Improvements - R4/XML Cheat File processing, online updating
Plug-ins for TXT/MP3/etc.
"Future Adaptable" Multi-loader support (AK2)
Multiple Save Slots per title - with copying between slots
Slot-2 Integration - EZ3in1 (w/GBA Patching) and older FlashAdvance Pro carts
Shortcut tweaks
Multi-page Start Menu
Filetype-based external icon support
Per-Rom settings for soft-reset/download play/cheats
Copying/Cutting/Deleting SAV files along with NDS files
Several improvements to 2byte language support
SAV backup/restore from within GUI (.SAV<->.BAK)
Installing and updating
AKAIO
Download the latest AKAIO from the link below. If you have the official firmware installed delete _AK2 and akmenu4 from the root of your memory card. Then move the files _AIO and akmenu4 from the downloaded file and place on the root of you memory card.
ak2 loader
The ak2 loader lets people use the official firmware while still using all of AKAIO features. The benefits are that people don't have to wait for the AKAIO developers to update their firmware when new games are released that don't work in their firmware. All you need to do is download the official firmware and place it in the ak2 loader: which is _AIO/ak2 loader. For convinence you can name the loaders to what ever you chose, what i do is name it by its release information. To use the loader select a ROM and press the Y button which brings up the ROM properties then the Y button again to bring up the ROM options, once there scroll to the AK2 loader and select the loader you just placed in side the AK2 loader folder.
Cheats
Updating via computer
Download the latest Cheat DB which is maintained by Narin from the link below. AKAIO can use CHEATA.XML, CHEAT.DAT, or USERCHEAT.DAT (smaller size). in the _AIO/Cheats there will be a USERCHEAT.DAT there delete that and paste the updated USERCHEAT.DAT
Updating via WI-FI
You can update your cheats via WI-FI if you already have WI-FI set up in your DS firmware, if you don't use a game that uses WI-FI and set it up. If you have used WI-FI before press Start > More > Update DB which will bring up the USRCheat updater. Press X or touch Update DB and the download will begin. After downloading it will unzip it self and you will have the cheat database updated.
Icons
Someone know how to update icons?
Plugins AKAIO 1.0-1.2
Someone know how to update Plugins?
Interface Theme (Skins)
This let you customize the way the acekard's menu looks like. You can download Skins from acekard's website (see links). download a skin you want, they will be in zip folders open the zip folder and place the folder that is inside and place it in the _AIO/UI Once done they will be available in the system options under interface themes (Start>System Options>Interface themes) If there is a skin you do not use you can delete it, just do not delete the skin you are currently using. never delete the default skin which is Adv.EvoR.
NOTICE: from personal experience some skins do not work properly, eg. they freeze up and you can't do any thing. if you happen to have a skin that does not work, here is a way to get rid it. Delete the skin from the _AIO/UI folder. Then open the globealsettings.ini under _AIO, locate "uiName =" YOURBROKENSKIN and chage YOURBROKENSKIN to Adv.EvoR.
Start Menu
The Start Menu can be accessed by pressing Start or click on the word "Start" on the touchscreen
Start Menu Options
Copy
Cut
Delete
Paste
Patches
System Options
Properties
3in1
Cheats
Update DB
Help
Patches
Press Start and going to patches brings up a window to change some settings:
DS Download Play
Soft-Reset
Autorun
Cheat/Action Replay
Select Cheat Database
Individual games settings can be set differently.
Options
Press Start and select "System options"
System Options
Interface Theme (SKINS)
Interface Language

English
S.Chinese
T.Chinese
日本文 (Japanese)
Francais (French)
Italiano (Italian)
Deutsch (Dutch)
Español (Spanish)
Nederlands (that how it is spelled, Netherlands)

Brightness (DS lite ONLY)
Set file list type (What files show up)
Trim ROM when copying
TXT viewer (two options "plugin" is bliss' text viewer, "internal" is Smiths text viewer)
Advanced Options
While in "System Options" press the Y button for Advance Settings
Show Hidden files
Rom Name Type
Scroll Speed
Copy/Cut SAV with ROM
Save Extension
Cheat Scrolling
FAS1 Options
While in Advanced settings press the Y button for FAS1 options
Rom Properties
The Rom Properties window shows up when you press the Y button when you select a Rom. Or hit Start > Properties. It will show you:
Rom Icon
The three (or less) lines of text that come with each game that I have no idea what they are called.
Rom Name
Last Change Date
File Size
Save Type
Game Code
Shortcut
A shortcut can be created to any game by pressing X on the Rom Properties Window. A shortcut will then be showed on the first page.
Rom Info
At the Rom Properties Window, press Y to launch the Rom Info Window. In it you can change individually for each game:
Save Type
Save Slot
DS Download Play
Soft-Reset
Cheat/Action Replay
AK2 Loader
Rumble
Slot copy
Cheats
The Cheat Window, press Start > More > Cheats or Touch the Cheat button on ROM properties, what to hit on it
Wifi Plugin
Start > More > Update DB which will bring up the USRCheat updater. Press X or touch Update DB
Links