From WikiTemp, the GBAtemp wiki
Start Menu
The Start Menu can be accessed by pressing Start or click on the word "Start" on the touchscreen
Start Menu Options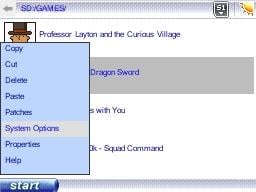 Copy
Cut
Delete
Paste
System Options
Properties
Cheats
3in1/FAS1
Wifi Update
Help
System Options
Press Start and select "System options"
New in 1.4 is the tabbed System Options menus. Use the L/R buttons or click the on-screen arrows to navigate between tabs
System Options
Interface Theme (SKINS)
Interface Language

English
S.Chinese
T.Chinese
日本文 (Japanese)
Francais (French)
Italiano (Italian)
Deutsch (German)
Español (Spanish)
Nederlands (Dutch)

Brightness (DS lite ONLY)
Set file list type (What files show up NDS, NDS/SAV, NDS/SAV/BAK, or ALL)
Interface Settings
Scroll Speed

Changes the speed of vertical scrolling in the file list

File List Style

Text List
File Name
Internal Name - Will show Japanese information even if using another language

Cheat Scrolling

Some people don't like the cheat scrolling, so you can disable it here. Notes will still scroll, however.
Advanced Settings
Show Hidden files
Trim ROM when copying
Copy/Cut SAV with ROM

Copies/cuts/pastes the .sav (and save slots, if applicable)along with the ROM

Delete SAV with ROM

Deletes the .sav (and save slots, if applicable) along with the ROM

Save Extension

Defaults to AceKard's standard ".nds.sav" extension
For compatability use ".sav", which is standard amongst other flash carts

If you have existing .nds.sav files, you can highlight them and select their "Properties" to enable the "Save Extension" button
This button will convert all ".nds.sav" files (including save slots) to ".sav" (and vice-versa) for the title selected.
Default Patch Options
DS Download Play
Soft-Reset (Press L+R+B+A+Down on the D-pad while in a Rom)
Cheat Code Usage
Autorun (hold down B at startup to cancel autorun)
Select Cheat Database
These are the global patch settings. Per-game settings are also available.
Plugin Settings