From WikiTemp, the GBAtemp wiki
AKA: DS-Link, DS Link, DSLink.
Manufactured by: EDIY Studio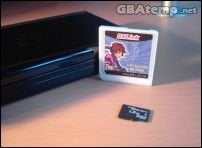 General
The DSLink is one of the first DS flash kits. It's entirely slot 1 (DS) based and does not stick out of the slot at all. The DSLink uses micro SD (aka. transflash) memory cards up to 2GB in size.
Features
Original NDS cart size
Support TF unlimited capacity
Support all kinds of DS ,Plug and Play
Support GBA link function and GBA cartridge slot
Build in 4M FLASH Saving System,no battery needed,no data lost
Build in updatable OS with cache buffer memory,no delay in games
Support GBALink Zip Series linkage function
Support DS games,movies,ebook,cartoon books,pictures,music etc
Console skin DIY,support the replaceable theme and sounds
By the updated of software ,The more functions will be added ,unlimited potential"
GBAtemp Review
Excerpt: "...But what if you're Nintendo DS isn't flashed? If you want to use the DSLink you're going to either have to flash it, or pick up a MK4-Mini pass card and use the swap trick. There's no other way about it.
This lack of a PassMe is a real let down for the DSLink... The DSLink could have made a much bigger impression if it had included one, and picked up a lot more sales. DS ROM compatibility on the DSLink is already very high, and it's still early days. While there are still a couple of problem games, these are nothing major and we should expect these problems to be fixed in future updates to the firmware and software."
Images
Compatibility
ROM Compatibility
link to chart
Homebrew Compatibility
link to chart
Useful Links