Difference between revisions of "EZ-Flash V"
From WikiTemp, the GBAtemp wiki
m (Automatic rollback of spambot edit)

 

(One intermediate revision by one other user not shown)

(No difference)
---
Latest revision as of 10:13, 5 August 2012
AKA: EZ-V, EZ5, EZ-Flash 5.
Manufactured by: EZFlash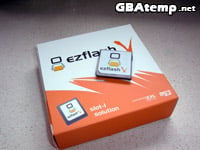 General
The EZ-Flash V is the EZTeam's answer to the call of slot-1 flashcards. It supports simple drag & drop functionality as well as a unique hybrid system.
Features
Unified slot-1 solution
DS Homebrew Support
MicroSD support
PDA-style interface
Video/Mp3 playback
EZ-V can be used as a passme for slot-2 cards.
Drag & drop clean ROM support
Optional hybrid ROM patching (you have the option to trim and patch ROMs that may not be compatible with drag & drop).
Moonshell developed loader (skinnable similar to Moonshell).
GBAtemp Review
Excerpt: "the EZ-V is a worthwhile purchase and should be considered. It offers features no other flashcard does like the Hybrid ROM system and Moonshell as the loader rather than a separately launched application. It shows great promise but is in need of more software updates to bring some aspects in line with other products on the market."
Images
Compatibility
ROM Compatibility
Homebrew Compatibility
NDS Homebrew Compatibility List
Savegame Compatibility
EZ-Flash V save file compatibility
See Also
Useful Links