Difference between revisions of "Golds's entry"
From WikiTemp, the GBAtemp wiki
 

Line 3:
Line 3:
 
 
 

[[Image:Goldsentry.gif]]

 

[[Image:Goldsentry.gif]]

 
+
 
+
 
+
 
+
 
+
 
+
 
+
 
+
 
+
 
+
 
+
 
+
 
+
---
Revision as of 23:38, 15 February 2007
Golds's entry for the How much do you love GBAtemp? competition.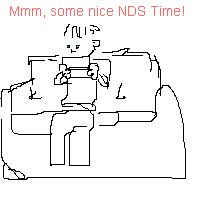 Transcript
Hmm some nice NDS Time! oh man my stomach!! Hello 9-1-1? my stoma... What? Too busy!?? NOOOOOOO I NEED HELP!!! GBATEMP PLEASE HELP ME!! pop! ... NO PROBLEM! GBAtemp will Help You!! Let's GBA to work! Slice! Cut! aah! here is your problem! (the GBAtemp mascot takes a PSP out of the guy's body) thumbs up! Thanks GBAtemp you are the greatest! I LOVE YOU!!!!!!