Difference between revisions of "Jumpman17"
From WikiTemp, the GBAtemp wiki
m

Line 51:
Line 51:
 

* Wearer of dresses

 

* Wearer of dresses

 

* Lamp Specialist

 

* Lamp Specialist

 
+
---
Revision as of 03:58, 21 October 2007
jumpman17 is a Supervisor at GBAtemp.net.
Background Information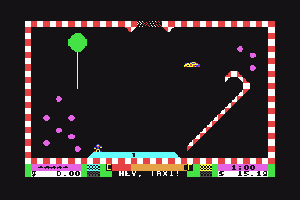 Having just gotten his associates degree in Computer Graphics Technologies (CGT), jumpman17 is currently getting ready to start his junior year in college to work on getting a bachelors degree.
He was introduced to the world of video games by his father who owned a Commodore 64, Vic 20, and an Odyssey II. So while most kids were busy playing in this foreign land called "outside", he was busy playing Space Taxi on the Commodore 64 inside.
Console/Handheld History
Magnavox Odyssey² (his father's, sold)
Commodore Vic 20 (his father's, sold)
Commodore 64 (his father's, sold)
Super Nintendo
Sega Genesis
Sega Game Gear
Sony PlayStation
Nintendo Gameboy Advance
Nintendo Gamecube
Nintendo DS
Sony PlayStation 2
Nintendo Wii
Favorite TV Shows (Current)
Battlestar Galactica
Eureka
Family Guy
Jericho
Psych
Smallville
Spongebob Squarepants
Stargate Atlantis
The 4400
The Venture Bros.
Favorite TV Shows (Ended/Cancelled)
Batman Beyond
Darkwing Duck
Firefly
Get Smart
Invader Zim
Joan Of Arcadia
Justice League
Sonic The Hedgehog (SatAM)
Stargate SG-1
Star Trek: The Next Generation
Threshold
Forum Nicknames
Wearer of dresses
Lamp Specialist