From WikiTemp, the GBAtemp wiki
Name: OMalone
Description: "Board game for everyone" (with online mode).
Rating:
Latest version: 2.2 on NDS, 1.2 on Windows
Author(s): Alx
URL: OMalone Homepage
Download: click here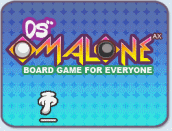 Features :
Stunning graphics and sounds
1-player game against the NDS
2-player game on the same NDS
2-player game online, through wifi connection
Up to 8 characters providing 8 different environments and different challenges
Integration of omalone's statistics in WFCStatus software
Windows version also available: Play online agains everyone !
Tips:
Beat MrDario, and you'll unlock Vector.
Beat Vector and you'll unlock "Heel mode" !!!
Try the famous Konami's code while selecting tables and you'll see...
Back to NDS Homebrew section