Difference between revisions of "RegionFrii"
From WikiTemp, the GBAtemp wiki
 

Line 9:
Line 9:
 
 
 

*Wii

 

*Wii

−

*Modchip

+

*Modchip

 

*Game ISO

 

*Game ISO

 
 
---
Latest revision as of 12:40, 14 June 2010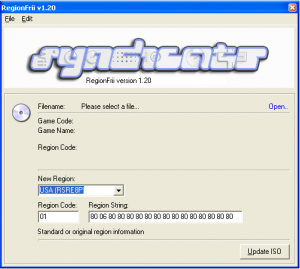 Information
SYNDiCATE have released a tool that allows you to patch NTSC game images to change their region code to PAL, so they can be played back on PAL Wii units in conjunction with any modchip. The tool works by modifying a section in the image that contains region information. Surprisingly; this area is said to be unencrypted.
Usage
Requirements
Wii
Modchip (no longer required if you softmodded)
Game ISO
Compatibility
See Wii Region Free Patcher Compatibility List.
History
Download
Download 'SYNDiCATE RegionFrii' here
See Also