Difference between revisions of "Reimu"
From WikiTemp, the GBAtemp wiki
---
Latest revision as of 23:13, 14 December 2008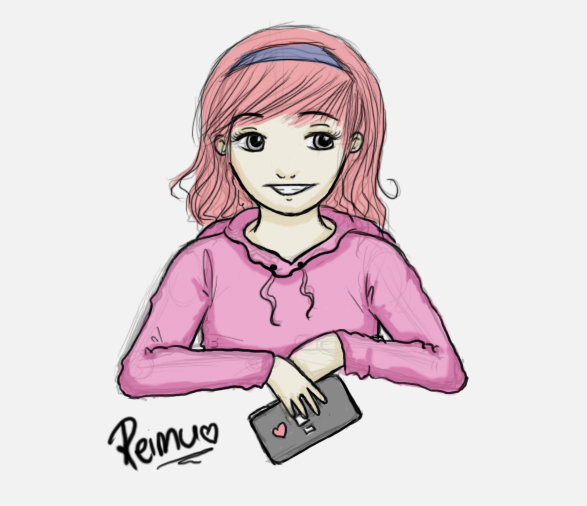 » Reimu - who is she

Welcome to my little home away from home on gbatemp. I am a 19 year old girl, yes, girl from the cold dark country of Canada. A bit of a self-proclaimed "girly-girl" there are three things I cannot live without: my Wacom tablet, my MacBook Pro and my NintendoDS. I am currently in college studying multimedia design and web development. I have been doing web development since I was fourteen and have a strange love *cough*addiction*cough* to XHTML, CSS, PHP and MySQL. I am no expert but if you need help in any of those areas I would be happy to try. I also love Photoshop, Illustrator and After Effects and would love to learn Flash. In my spare time I enjoy horseback riding and... uh... long walks on the beach? Oh, and world peace. I have been sneaking around GBAtemp for a while but have never really introduced myself properly (I should get doing that O_O). I look forward to meeting all you awesome tempers.
» Reimu - what she loves

Get ready for a slightly long list, I am very easily amused ˆ_ˆ
MacBook Pro
Wacom Tablet
Web Programming
Horses, yes, horses. This may disturb some GBAtemp members but I even like the occasional horse game, just don't get me started on Ubisoft >-<
Harvest Moon
Rune Factory
Cute things
Anime

Shojo
Nintendogs (the cuteness gets to you, watch out.)
Metal Gear (slightly out of character xD)
Video Production
Jane Austen
Maya (3D modelling)
R4
PSP
Pixel Art
Grids
Typography (Helvetica my sweet...)
GBAtemp! ˆ-ˆ
» Reimu - what she hates

People who trash a game before trying it (or at least posting something constructive)
Girls games by Ubisoft.

Not so much the games themselves but more the manner in which they are pumped out without any apparent testing or bug fixing.
Taking advantage of children is so not cool.

Puzzle games, especially Sudoku. I have the attention span of a walnut.
Clingy girls who can't stop talking about their boyfriends.
Turn based RPGs
Final Fantasy Tactics (These games blow my mind, so complicated @[email protected])
Stalkers. Who doesn't hate stalkers.
» Reimu - the games

My favorite game unit of all time is the Nintendo DS. Hence the drool on the picture to your left. I generally love nintendo over any other brand however I also own a PSP and a PS2 which I love to death. In addition to the PSP, DS and PS2, I also own a Wii, GBC and a GBA. I have an addiction to girly games as well as pet games and virtual life games. My top ten games of all time are as follows: Harvest Moon 64, Rune Factory 2 (DS), Harvest Moon: Tree of Tranquility (Wii), The Sims 2 (PC), Final Fantasy VII: Crisis Core (PSP), Final Fantasy Crystal Chronicles: Ring of Fates (DS), Pokemon Red (GB), Pokemon Pearl (DS), Spectrobes: Beyond the Portals (DS), Shadow of the Colossus (PS2). There are more but it would take all day to write them all down. You get the drift anyway. Just in case you were interested there are only a few horse games actually worth playing: Horse Life (DS) and Lucinda Green Equestrian Challenge (PS2). I was thinking of starting a GBAtemp blog and reviewing games for kids and girls, seems there are so few good ones and I hate seeing kids buy crappy games. Would anyone be interested in that?
Well, 'twas fun spending some quality internet time with you. If you want to chat or need any help with anything just send me a message. ˆ-ˆ - Reimu