From WikiTemp, the GBAtemp wiki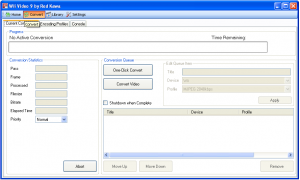 Information
Wii Video 9 is a free video conversion application developed by Red Kawa. It allows you to convert your computer video files (like avi, divx, mpeg, etc.) into the specific video formats that are playable on the Wii.
Wii Video 9 can also be combined with Videora, another software application, and together they can let you automatically download and convert video for your Wii using BitTorrent and RSS technology.
It is released as Freeware for non-commercial, personal use at home only. Also known as Red Kawa Video Converter.
Usage
Install the application making a double click on the installer and follow the install procedure.
Click on the "convert" top tab of the application.
Click the "Convert Video" button and select the video to convert.
Check the settings, for example that "Device = Wii" and "Profile = MPEG XXX"
Click the "Start" button and wait until de conversion is done. By default the converted videos goes to "C:\Program Files\Red Kawa\Video Converter\Videos\Wii\..."
Requirements
Windows XP
Videora to use the ITVCasting Feature
Compatibility
History
==Download== Homepage == Téléchargement == http://www.redkawa.com/videoconverters/wiivideo9/ [Page d'accueil]
Acknowledge
Red Kawa, Sajeeth Cherian
Developer Teams for: FFMPEG, FAAC, x264.
See Also