1535 - Final Fantasy Tactics A2: Fuuketsu no Grimoire
From WikiTemp, the GBAtemp wiki
Title description
Japan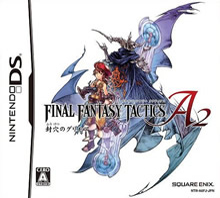 Name : 1535 - Final Fantasy Tactics A2: Fuuketsu no Grimoire
Language : Japanese
Release Group : 6rz
Filename : 6rz-ffa2.zip
Rom size : 1024Mbit
Save type : Unknown
View nfo : Click here

Publisher : Square Enix
Game genre : Tactical RPG
Wi-Fi : No

Game description
Final Fantasy Tactics Advance 2 is a new episode from Final Fantasy series witch take place in Ivalice world.
[please insert description of the game genre, game place with other Ivalice game (next chapter, other story, etc.)]
Game's help - How to play
Game's help - Translation
[please insert and replace pictures and translation to the Final Fantasy one]
[this one is from Dirtie's wiki page, copy/pasted here for template example]
Title screen
This is the title screen. You can choose to start a new game, load a save, continue your quick save, or trade with friends.
Image
Identified text
Literal translation

From the beginning
Load
Continue
Trade, Commerce

Game difficulty
Normal
Hard
Image
Identified text
Literal translation

Command :

いどう
アクション
たいき
X) システム
Y) ヘルプ

Movement
Action
Wait
X) System
Y) Help

System :

Rules :

Check!

Check! :

Config :
Class and Job
Here you will find the translation of the main character's jobs.
Image
Identified text
Literal translation

スリザーリンクとは・・・・
操作説明
チュートリアルのプレイ
タイトルヘ
戻る
進む

What is Slitherlink...
Operation Instructions
Play Tutorial
Return to title
Back
Next