From WikiTemp, the GBAtemp wiki
AKA: Ewin 2, Ewin2, E-Win, EW2.
Manufactured by: The Ewin Team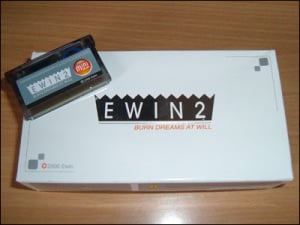 General
The EWin name may not be recognizable to many - their original series of GBA flash carts were good solid carts, but few shops outside China stocked them. This didn't deter the manufacturers however as they've come back with the EWin2; a range of GBA cart based solutions for the DS market. Thankfully availability outside Asia is a lot better this time round and the EWin2 is available in 3 different varieties SD, Mini-SD and Micro-SD.
Features
Professional build quality
Optimal shape design
User friendly interface
Excellent compatibility with NDS games
Supports FAT16/32 File System
High-speed data transfer technology
Auto save management system
Review
Excerpt: "The EWin2 has been a pleasant surprise to review, for some of the lowest priced carts on the market I didn't expect much but it has certainly delivered a lot. Build quality is great, as is DS compatibility and it's all handled via a fast, good looking and easy to use piece of software. It may not play GBA games or have the best homebrew support but for anyone who is just interested in playing DS games the EWin2 gets the job done amazingly well at a rock bottom price. Highly recommended!"
Images

Compatibility
ROM Compatibility
link to chart
Homebrew Compatibility
link to chart
Useful Links