From WikiTemp, the GBAtemp wiki
AKA: EZ4, EZIV, EZ-4, EZ-IV, EZ-Flash, EZFlash, EZF.
Manufactured by: EZ-Flash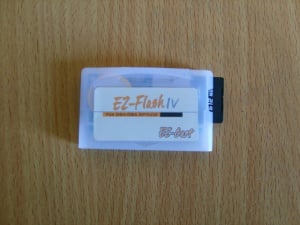 Variants
EZ-Flash IV
EZ-Flash IV Lite
General
The EZ-Flash IV is the long awaited Nintendo DS cart from the EZ-Flash team, known for their quality products with excellent compatibility in the GBA arena. The EZ-Flash IV is very similar to the EZ-Flash III – except it sports a mini-SD card slot, rather than internal NAND flash memory. As such it requires no external linker device, just a mini-SD card, which of course means that your storage space is limited only by the size of your card.
Features
128Mbit PSRAM
256Mbit Norflash
32Mbit SystemLoader
8Mbit SRAM for saver
MiniSD is used as external storage
Supports upp to 2 GByte Mini SD (FAT16 only)
Low power consumption
Compatible with all GBA, NDS and NDS Lite consoles.
Compatible with 99% of GBA and NDS games.
The save files are saved into Mini SD.
Real time save will be supported. (not supported yet as of 16 July 2007. No sign of an update)
Review
Excerpt: "While NDS compatibility is not perfect, software updates look sure to make this a viable contender in the compatibility stakes in the future. GBA support is one thing that is sure to have a lot of pulling power for the EZ4, and the inclusion of internal memory in the cart ensures that compatibility is top notch - apart from the lack of a real time clock for GBA games, which is a minor disappointment, but as it is in no way integral, the majority of customers are unlikely to notice its absence. As it stands though, the EZ4 has a little bit of catching up to do in the software department, mainly with respect to the NDS side of things, despite being a quality piece of hardware."
Images
Compatibility
ROM Compatibility
EZ-Flash IV ROM Compatibility List
Homebrew Compatibility
link to chart
See Also
Useful Links