From WikiTemp, the GBAtemp wiki
AKA: EZ-V, EZ5, EZ-Flash 5.
Manufactured by: EZFlash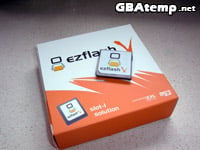 == GEE IT SURE IS BORING AROUND HERE! MAH BOI! THIS PEACE IS WHAT ALL TRUE WARRIORS STRIVE FOR! I JUST WONDER WHAT GANON IS UP TO....
YOUR MAJESTY! GANON AND HIS MINIONS HAVE SIEZED THE ISLAND OF CORIDINE! Hmm HOW CAN WE HEEEELP?!
IT IS WRITTEN ONLY LINK CAN DEFEAT GANON! ==
GBAtemp Review
Excerpt: "the EZ-V is a worthwhile purchase and should be considered. It offers features no other flashcard does like the Hybrid ROM system and Moonshell as the loader rather than a separately launched application. It shows great promise but is in need of more software updates to bring some aspects in line with other products on the market."
Images
Compatibility
ROM Compatibility
Homebrew Compatibility
NDS Homebrew Compatibility List
Savegame Compatibility
EZ-Flash V save file compatibility
See Also
Useful Links