From WikiTemp, the GBAtemp wiki
FileTrip.net was a file hosting service that was created to replace the older download system from the main GBAtemp website. It was officially opened on October 20th[1], forming a new GBAtemp Network, together with the main site. Improvements over the old download system included a newer design, new categories and more control over files (with the version system, the ability to edit/remove your own files and more!).
In May 2018, due to low advertisement revenue, and concerns for possible future abuse of the private file uploads of the site, FileTrip was closed from receiving new uploads. The same day, the GBAtemp Download Center was re-instated, and all homebrew-related files were migrated back[2]. Owners of private files were notified and had a limited time to download their files before the site closed down permanently.
About Us
"FileTrip is a unique download center that hosts thousands of files for the latest video game consoles and handhelds. Whether you're looking for a firmware update for your modchip or a cheat file for your favourite game, you'll find them and more at FileTrip.net! This is a user content powered site. Your contributions to the download database are the foundation on which FileTrip is built."
Ten reasons why YOU should you use FileTrip...
Thousands of files and different versions, grouped and organised.
Free downloads with zero waiting times.
Ability to Watch Files and get e-mail updates.
Category subscriptions means you don't miss a file.
Comprehensive file information displayed in a streamlined interface.
Comment, rank and find the hottest files.
A Top 10 files for each category.
Help us improve with a comprehensive Flagging and request system.
Watch your favourite files on the homepage.
Get even more from us by becoming a member and collecting points and gifts!
Why should you upload files to FileTrip?
Quick, easy and FREE, organised file hosting.
Comprehensive file information pages with change logs and more.
Other FileTrip members can watch your files and follow updates.
Open and Locked file groups, allow others to update, or just you!
Easy file and group file management - set the latest version.
Ability to upload screenshots of your file versions.
Get e-mail updates when new comments are posted on your files.
Massive userbase already established - get your file noticed!
Re-claim ownership of all the files you posted back on GBAtemp.
FileTrip Points and Gift scheme... Get rewarded!
FileTrip Accounts
In order to upload files to FileTrip, a new account has to be made on the Site. Your GBAtemp account will not work. It is not needed to register if you want to download the files.
See also: Registering
Linking your GBAtemp account
It is possible to link your FileTrip account to your GBAtemp account in order to regain control of the file you uploaded in the old Download system. No other benefits are known for linking accounts.
In order to link your accounts, following steps have to be taken:
Log in to your GBAtemp account and your FileTrip account.
In FileTrip, go to My controls and choose Connect GBAtemp Account
Click the link under Step 2 and you will get a Pass Key
Paste the pass key in the box on FileTrip and Press GO.
You will now have control over your own files again!
How to upload a File
Uploading files to the site is easy. All you have to do is to log in, and you'll see a link named "+submit file" at the top right.
Step 1
Type in the name of the file you want to upload to see if someone else has already submitted it. If so, you're either done or you can upload a newer version if the current one is outdated. If the file wasn't found, click the button below.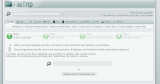 Step 2
Whatever you chose, you'll automatically be brought to a new screen. Here, you have to choose the location for your upload. It should automatically continue once you select a Sub-Category, but if it doesn't, you can use the button below.

Step 3
If there are some files in the category you chose already, you can choose which one you want to update. You can also use the button at the bottom to submit a complete new file.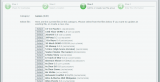 Step 4
This is where we do the actual uploading. First enter a name and version for your file. Then click "Upload" and browse for the file.

While its uploading (it starts automatically), you can fill in some information by clicking more options.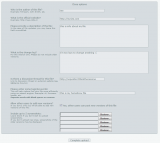 Once you filled everything in, click complete upload at the bottom and you're done
Personal File Uploads
On May 4 2012, a new feature was added to the site allowing members to upload their personal files.[3]. Members are offered up to 100GB in space, with a limit of 4GB per file[4].
Additionally, it is possible to view the uploaded files directly from the site through "upload & play". Files like music and movies can be viewed through an embedded player, while documents are viewed through Google Docs.
References
See Also