From WikiTemp, the GBAtemp wiki
AKA: G6, G6 Lite.
Manufactured by: GBAlpha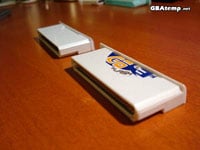 General
The G6 Lite fits the DS Lite's slot perfectly and also improves upon many of the original G6-Flash 3rd Generation's shortcomings. It houses 512MB (4Gbit) of internal storage space and is one of the more popular slot-2 flashcards.
Features
4Gbit (512Mbytes) of space
Fits perfectly into the DS Lite's GBA slot
Fits into the original DS's GBA slot with included GBA cover
Includes 3 DS Lite covers (black, white, ice blue)
Integration of Moonshell like client 'MediaPlay-Extend'
Great GBA and NDS game compatibility
GBAtemp Review
G6 Lite (Gaming Only) GBAtemp Review
G6 Lite (Final English Version) GBAtemp Review
Excerpt: "The G6 Lite is a very capable, feature rich cartridge. It manages to hold together and deliver excellent game compatibility with ease of use. The software is top notch and a breeze to navigate. It's just a pity that some of its shortcomings drag it down. The waning homebrew support is something that definitely needs to be addressed and the GBA loader is outdated and in dear need of a makeover."
Images
Guide/FAQs
Compatibility
ROM Compatibility
link to chart
Homebrew Compatibility
link to chart
Useful Links