List of Game & Watch games
From WikiTemp, the GBAtemp wiki
Overview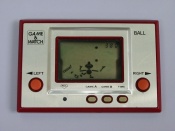 Game & Watch are handheld electronic games from Nintendo, released from 1980 to 1991 and created by Gunpei Yokoi, the Game Boy creator. They each feature a single game that can be played on one or two pre-printed LCD screen, a clock and an alarm.
They introduced the well known characters from Nintendo like Mario, Donkey Kong and Link.
There are 59 games distributed over 10 differents series. There is a 60th game not included in the series, a super mario bros. game made a 10.000 units and distributed in japan only as part of tournament's winning prize.
Series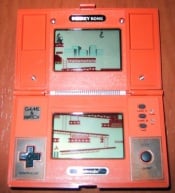 Silver (1980)
Gold (1981)
Widescreen (1981-1982)
Multiscreen (1982-1989)
Tabletop (1983)
Panorama (1983-1984)
New Widescreen (1982-1991)
Super Color (1984)
Micro Vs (1984)
Crystal Screen (1986)

The Nintendo DS design is based on the Multiscreen Game & Watch serie.
Game & Watch list
This is a list of Game & Watch games released by Nintendo, along with their serie and date of release (if known).
0-9
A
B
Balloon Fight (Crystal Screen, Nov 1986)
Balloon Fight (New Wide Screen, Mar 1988)
Ball (Silver, 28th Apr 1980)
Black Jack (Multi Screen, 15th Feb 1985)
Bombsweeper (Multi Screen, Jun 1987)
Boxing ...aka: Punch-Out!! (Micro VS., 31st Jul 1984)
C
Chef (Wide Screen, 8th Sep 1981)
Climber (Crystal Screen, Jul 1986)
Climber (New Wide Screen, Mar 1988)
Crab Grab (SuperColor, 21st Feb 1984)
D
Donkey Kong (Multi Screen, 3rd Jun 1982)
Donkey Kong 2 (Multi Screen, 7th Mar 1983)
Donkey Kong Jr. (New Wide Screen, 26th Oct 1982)
Donkey Kong Jr. (Tabletop, 28th Apr 1983)
Donkey Kong Jr. (Panorama, 7th Oct 1983)
Donkey Kong 3 (Micro VS., 20th Aug 1984)
Donkey Kong Circus (Panorama, Sep 1984)
Donkey Kong Hockey (Micro VS., 13th Nov 1984)
E
Egg (Wide Screen, 9th Oct 1981)
F
Fire Attack (Wide Screen, 26th Mar 1982)
Fire (Silver, 31st Jul 1980)
Fire (Wide Screen, 4th Dec 1981)
Flagman (Silver, 5th Jun 1980)
G
Goldcliff (Multi Screen, Oct 1988)
Green House (Multi Screen, 6th Dec 1982)
H
Helmet, named Headache in the UK (Gold, 21st Feb 1981)
I
J
Judge (Silver, 4th Oct 1980)
K
L
Life Boat (Multi Screen, Oct 1983)
Lion (Gold, 29th Apr 1981)
M
Manhole (Gold, 29th Jan 1981)
Manhole (New Wide Screen, 24th Aug 1983)
Mario Bros. (Multi Screen, 14th Mar 1983)
Mario's Bombs Away (Panorama, 10th Nov 1983)
Mario's Cement Factory (New Wide Screen, 16th Jun 1983)
Mario's Cement Factory (Tabletop, 28th Apr 1983)
Mario the Juggler (New Wide Screen, Oct 1991)
Mickey & Donald (Multi Screen, 12th Nov 1982)
Mickey Mouse (Panorama, Feb 1984)
Mickey Mouse (Wide Screen, 9th Oct 1981)
N
O
Octopus (Wide Screen, 16th Jul 1981)
Oil Panic (Multi Screen, 28th May 1982)
P
Parachute (Wide Screen, 19th Jun 1981)
Pinball (Multi Screen, 5th Dec 1983)
Popeye (Panorama, 30th Aug 1983)
Popeye (Tabletop, Aug 1983)
Popeye (Wide Screen, 5th Aug 1981)
Q
R
Rain Shower (Multi Screen, Aug 1983)
S
Safebuster (Multi Screen, Jan 1988)
Snoopy (Tabletop, 5th Jun 1983)
Snoopy (Panorama, 30th Aug 1983)
Snoopy Tennis (Wide Screen, 28th Apr 1982)
Spitball Sparky (SuperColor, 7th Feb 1984)
Squish (Multi Screen, Apr 1986)
Super Mario Bros. (Crystal Screen, Jun 1986)
Super Mario Bros. (New Wide Screen, Mar 1988)
T
Tetris Jr. (Crystal Screen, Unreleased)
Tropical Fish (New Wide Screen, Jul 1985)
Turtle Bridge (Wide Screen, 1st Feb 1982)
U
V
Vermin (Silver, 10th Jul 1980)
W
X
Y
Z
Zelda (Multi Screen, Aug 1989)