From WikiTemp, the GBAtemp wiki
Mandelbrot

General
Author(s)
Darkmath
Type
Demo
Version
1.0
Links
Download
Official website
Additional informations
GameID
MANDEL001
SDK
PSL1GHT
Format
pkg
Compatible Firmwares
fw3.15, fw3.41, cfw3.41H, cfw3.55G, cfw3.55K/Wa/Wu

Mandelbrot let's you navigate and zoom in/out in a Mandelbrot rendered system.
It's using only the PPE.
Installation
1) Put your .pkg file to the root of your USB drive (FAT32 required).
2) Plug it in to your PS3
3) In the XMB go to Game -> "★ Install Package Files"
4) Select the file you want to install and press X
5) Press O to go back to XMB
6) Launch the installed title from the Game menu.
Media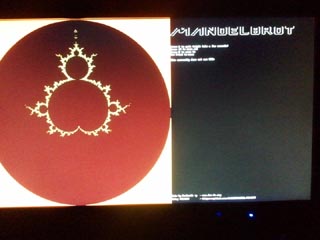 Youtube video :
v1.0 : http://www.youtube.com/watch?v=iFcVBZbhXDM
Changelog
V1.0 - 2010-11-09: