Difference between revisions of "Mario Kart DS-Track Hack Information Guide"
From WikiTemp, the GBAtemp wiki
Line 15:
Line 15:
 
 
 

=='''Applying the IPS Patch'''==

 

=='''Applying the IPS Patch'''==

 
+
 
+
 
+
 
+
 
+
 
+
 
+
 
+
 
+
---
Revision as of 06:32, 3 September 2011
Mario Kart was released with only 20/32 courses available for online play. Thanks to talented users from the GBADev community, we have found a way for those of us using Flash Kits to enjoy the other 20 courses online.
This guide was originally published at the M3WIKI, which is now deleted and forgotten. The information in this guide was retained using an old M3WIKI link and the Internet's Way Back Machine. The guide has been slightly rewritten but the information and steps to hacking Mario Kart remain the same.
What You Need
The Mario Kart DS ROM
The Track Hack IPS Patch or the DEMO version IPS Patch
For a custom hack you will need A Hex Editor
Applying the IPS Patch

Make a physical back up of your ROM
Click the Apply IPS Patch button. Select the IPS patch by using the program's browsing window
Select the ROM to patch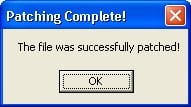 If the above image appears then your ROM has successfully been IPS patched.