From WikiTemp, the GBAtemp wiki
Pongus

General
Author(s)
CodeZombie
Type
Arcade game
Version
1.0
Links
Download
Source included
Official website
Additional informations
GameID
HBRW00001
SDK
PSL1GHT
Format
pkg
Compatible Firmwares
fw3.15, fw3.41, cfw3.41H, cfw3.55G, cfw3.55K/Wa/Wu

Pongus is a Pong clone for PS3.
It's the very first legal Homebrew written with the Open Source PSL1GHT SDK.
Author's comment
Pongus is a simple pong clone, demonstrating the basic features of the PSL1GHT SDK.
Right now, it's in a playable state, with enemy AI, collision detection, Speed advancement and simple controls.
I am aware that there is already a much better pong clone available for the ps3, but that package contains leaked sony code, and is illegal to distribute.
This package is the opposite, written completely with the Open PSL1GHT SDK. No Sony code was used to write this game, and thus, is able to be freely distributed, source and all.
~CodeZombie
Installation
1) Put your pongus.pkg file to the root of your USB drive (FAT32 required).
2) Plug it in to your PS3
3) In the XMB go to Game -> "★ Install Package Files"
4) Select the file you want to install and press X
5) Press O to go back to XMB
6) Launch the game from Game -> Pongus
Controls
Screenshots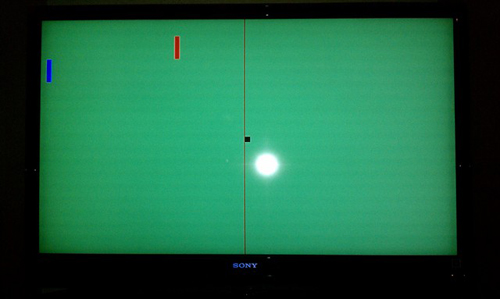 Changelog
v1.0
Initial release