From WikiTemp, the GBAtemp wiki
AKA: Revolution for DS, Revolution 4 DS, R4, R4DS.
Manufactured by: R4 DS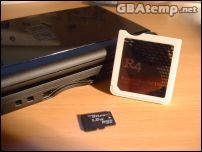 General
The R4, and the team behind it, are new competitors in the flash kit market, and this is their first product (at least under R4 branding). It supports simple drag & drop.
Features
2nd generation storage device (no booting tool required)
Flush fitting slot 1 card
Uses MicroSD card (no SDHC support), FAT16 or 32
Supports any MicroSD card speed with no lag in game
Supports Clean ROM, drag and drop. Works on any OS
Built in NoPass
Automatically detect save type
Save directly to MicroSD card, not to onboard chip
Supports Moonshell and other homebrew. Open I/O interface
User friendly skinnable interface. Touchscreen or button operation
Supports rumble pak and memory pak
GBAtemp Review
Excerpt: "The R4 DS is a slot 1 DS flash kit designed to play ROMs. I may be stating the obvious here, but the point is; that's what it's meant to do, and it does it very well. From our extensive testing, so far we can confirm that the R4 DS is 100% compatible and doesn't suffer any slow downs in game."
Images
Guide/FAQs
Compatibility
ROM Compatibility
Homebrew Compatibility
NDS Homebrew Compatibility List
Useful Links