From WikiTemp, the GBAtemp wiki
The SuperCard DSonei is a Slot-1 flashcart solution, made by the SuperCard team. It's exactly the same as the SuperCard DSone, but made to work with the DSi. However, it can only use the DSi's DS mode, because DSi mode hasn't been hacked (yet). After the DSi's 1.4 Firmware update, it was blocked by Nintendo to make sure it didn't work, but thanks to a 'Firmware Writer' included in the package, team SuperCard got it working again by changing the cart's header to the header of Star Wars Lethal Alliance. This makes the cart show up in the DS/DSi menu as if it actually is Star Wars Lethal Alliance. Recently, it got a OS update, as did the DSone and the DSone SDHC. The new Operating System (called the Evolution Operating System, or EOS) is a major improvement on the old OS, which was based on Moonshell. Because of that, with the old OS you could play music and DPG videos, show pictures, read text files, etc. Now you can't do that anymore, you can only load ROMs.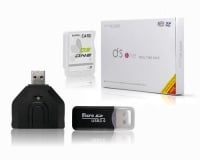 Features
For the old OS
Plug'n Play(No flashme, No passme, No convert).
The 1st flashcart with a USB fireware writer in the world wide. Unlimited upgrade and Never worry about anything.
100% Clean Rom Support, Just Drag'n Drop.
100% Game Compatibility.
RealTime Functions: RealTime Save, RealTime Game Guide & RealTime Cheat.
Multi Saves, Easy to backup and restore saves.
Hardware Save Support. Easy to backup and exchange saves with other players.
TWO modes designed:
Clean ROM mode (100% Clean Rom Support. Just Drag 'n Drop file from PC to flash memory card.)
Patch Mode (100% Clean Rom Support. Just Drag 'n Drop file from PC to flash memory card. Then play the games with some extra functions, like RESET, RealTime Save, RealTime Game Guide & RealTime Cheat.)
Unlimited storage. Support SDHC memory card, Support FAT/FAT32. Easy to share memory card with other digtal tools.
Blue-Light engine included. Support High speed flash memory card without any slow down.
Multi language Support. Change the language as you wish.
DS original cartridge size, the perfect solution of slot 1.
TFlash/MicroSD slot Push'n Push design, good-looking and easy to use.
Micro firmware designed, and extended skin which is fully upgradeable, easy to DIY your own skin.
MoonShell built-in design. Can play MP3, Ogg and DPG2 directly in SuperCard DS system. Capatible with DPG0/DPG1. It also support eBook and view picture. It's a real multimedia system.
Powerful OS Menu System. Game list support PDA display mode, text list, small icon list and big icon list. Support touch operation.
For the new OS
Completely redesigned the GUI can bring you a new beautiful interface. And system menus will also give you more friendly user experience, touch operation, saves time and effort!
It increased RTS slots up to 4 individual slots. Additional, added the 3D data intelligent detection function, to improve the compatibility of 3D games so that it can be more stable. Moreover, also fast read & write speed as always.
Integrated the hotkey, then there is only one hotkey you need to remember. You can call out the in-game menu to use the functions like RTS/RTG/Cheat and so on. It's easy to remember and easy to use!
Full-featured upgrade cheat function
Easy to use, compatible with popular DAT format cheat database now. It's easy to get the cheat code.
Hardware supports slow motion
Changed the slow motion function from Cheat code method to hardware method. Better stability and compatibility.
Evolution of Real-Time-Game-Guide
With the beautiful and small font so that could display more on the screen. In addition, supports for direct reading .Txt text file, more convenient to use.
Supports long file names perfectly
Emancipated from 8.3 rule, supports long file names perfectly, file identification is more simple and convenient.
Integrated auto-patch database, you can play new games at the first time as soon as possible. And there is another official patch database, give you the double insurance.
Compatibility
As stated in the Features lists, the ROM compatibility is near 100%. Most of the times, games can already be played on a SuperCard before any other card, before even any kind of patch is released. This is because of the way you can run games, in clean or in patch mode, and because of the save size you can set for the games.
Homebrew compatibility
The DSonei's homebrew compatibility is excellent, almost every homebrew works, whether its filesize is small or large.
Evolution OS FAQ
Taken from here. Edited here and there.
Why does the message "No Find English/Chinese/Japanese Ver.!" appear?

That means the OS is not an English/Chinese/Japanese version. Please download English/Chinese/Japanese version OS from http://eng.supercard.sc/ http://www.supercard.sc/ http://jp.supercard.sc/. E.g. if you have a Chinese DSonei, you have to download the Chinese OS for the DSonei.
Can I use the saves of old SuperCard product?

Sure, and very easy. Just rename the save file as the same filename of the nds game and put them in a same folder, e.g. if your game is 123.nds, then rename the save file as 123.sav.
Can I use SuperCard DSonei with a DSiLL?

Sure. SuperCard DSonei works perfectly with all NDS/NDSL/IDS/IDSL/NDSi/NDSiLL
What file format does Real time game guide support?

Support txt directly.
I want to share one game with family, can I have multi save?

Yes, Evolution support multi real time save and multi normal save.
What's the function of DSonei EOS slow motion?

Slow motion can slow down the game speed, it's easy to play certain action games.
What file format support with DSonei EOS e-book and picture function?

e-book support TXT, PDF format. Picture support BMP, JPG, JPEG, PNG, TIF, GIF.
Where can I get the cheat?

This site is very good: http://cheats.gbatemp.net Download the USRCHEAT.DAT file.
Where should I put my cheat file?

'Put the USRCHEAT.DAT file under /_dsone/
Why can't I run certain games under English OS?

Please rename the filename as English characters.
Why can't I use some cheats?

Please check:

Make sure you play games with patch mode, not clean mode.
Must turn on cheat function.
Maybe flashcart doesn't support that code
How to update the OS (operating system)
First, download this file if you have an English DSonei, or this file if you have a Chinese DSonei. Extract it using a program like WinRAR. Inside will be a folder called en or chs. Open the folder. Copy the files inside it to the root of your microSD card. Finished. That was easy now, wasn't it?
How to update the fireware
If you update your DSi to the 1.4 firmware, you will notice the DSonei doesn't work anymore. Don't worry though, because that's what you got that handy-dandy firmware writer for.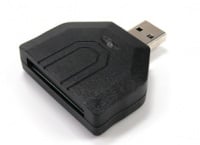 First, you will need to download this file. Extract it using a program like WinRAR. Then, put the extracted file (updateen.bin) on the root of your microSD card. Put the microSD card in the DSonei, then put the DSonei in the firmware writer. Put the firmware writer in a powered USB port (this can be a computer's USB port, a USB charger, etc). You'll see a light flashing. This means the fireware is being updated. DO NOT remove the firmware writer from the USB port during this time, because you might risk bricking your card. This process takes about 8 minutes, it depends on the speed of your microSD card. When you see a green light, that means the updating is done, and you can safely remove the firmware writer from the USB port. However, it could be that you just see a red light, this means that the updating process has failed. Try it again until it works. Now, when you put the DSonei in your DS/DSi and turn it on, you won't see the SuperCard logo anymore, but you'll see Star Wars Lethal Alliance instead. Don't worry, it's still your DSonei, but with the header of the Star Wars Lethal Alliance game.
How to add skins without using a computer
Want to change skins, but your computer is nowhere to be found?
For the old OS
Try skinUP, a homebrew application that allows you to download a bunch of skins over Wi-Fi. There's more than 400 skins in the database already.
For the Evolution OS
Try EskinUP, a homebrew application for the Evolution OS that allows you to download a bunch of skins over Wi-Fi.
Reviews
Official GBAtemp reviews
Other reviews
Useful links
Downloads