From WikiTemp, the GBAtemp wiki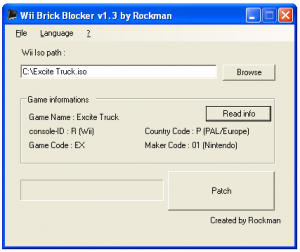 Information
A small piece of software that enables you to patch an Iso file before you burn it. A Wii DVD consists of 3 partitions, one of them is the update. The WBB modifies these partitions and replaces one of them without any update. You just have to choose your Iso file, and click Patch, it only takes 30sec... After that you can burn your Iso and the game will launch without an update so you will be able to play your import game.
Usage
Double click the application icon
Click "Browse"
Select the ISO to patch
Click "Patch"
Wait until the progressbar is full and the "Complete" label appears
Optional: click on "Read info" to view some ISO related useful infos
Requirements
WiiBrickBlocker requires the user to have .NET Framework 2.0 or newer.
Compatibility
See Region Free Compatibility List
History
v1.0
Patch your import games which contain an update in order to remove it, and so you don't risk too brick your console.
v1.1
Add a menu, thanks, and little optimization
v1.2
New Open Dialog, I think i run on Vista (waiting for your reaction on Wii-Addict.com).
Wii-addict hyperlink work only with Internet Explorer (sorry but no better)
Read Game information in the ISO file
v1.3
Multilanguage (directory lng)
Automatic save of selected language
You can add your own lng file in the directory (please send your files to Rockman)
You can add your own Maker Code in code.ini (please send your files to Rockman)

Download
From official site Or WiiBrickBlocker
Language files:
Acknowledge
See Also