From WikiTemp, the GBAtemp wiki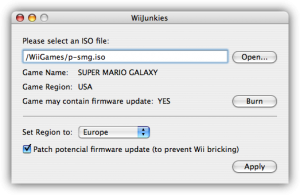 About

WiiJunkies is an unscrambling / RegionFrii / WiiBrickBlocker combination written for Mac OS X. It runs on Mac OS 10.4 and 10.5 on both PPC and Intel based systems.
Its goal is to unscramble, free, patch and burn isos using a single application.
Requirements
Mac OS 10.4 or later.
Wii modified with D2Ckey / Wiikey / CycloWiz / Winja / ...
Download
History
Version 1.1 was released on January 07 2008
Version 1.0 was released on January 03 2008
Credits
WiiJunkies could not have existed without the original unscrambler, IsoUpdateRemover, WiigionFree and WiiPatcher authors
TODO
Add a feature to automatically decrypt Wii ISO file
See Also