From WikiTemp, the GBAtemp wiki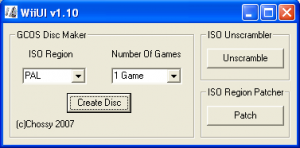 Information
A simple GUI to make GCOS multi game discs & PAL/NTSC patching & unscramble wii iso's. Is also collection of tools to help you create Wii & GC images.
With Wii Ui you can:
Make multi boot games using gcos for use in the Wii or GC (upto 15 images).
Build an emulator image using the built in emulators in the gui.
Unscramble Wii ISO's.
Region patch Wii ISO's.
Create a dummy file to pad out your iso if needed.
Edit GC images with GC-Tool.
Burn Your newley created iso (Requires ImgBurn Installed).
Usage
GCOS Disc Maker
On the "GCOS Disc Maker" area, select the ISO Region and the number of games to integrate on one image.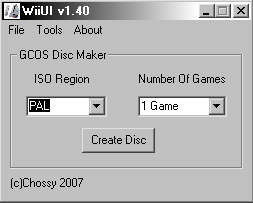 Then select the region of your console and how manny games you have to put in one iso. Select from 1 to 8 ISO Images and Click open for every image.
Now click on "Create Disc".
Select the Path and Name of the merged ISO image and Click Save
After you have selected the iso's you will see the cmd pop up this will create the mutiboot ISO.
Burn the "ISO" with clonecd at 4x speed to prevent DRE's or whatever you know can burn Wii games.
Emulator Image
The first thing you need are some ROMS of the console you are going to emulate and put them in the rom folder in the WiiUI folder.


Open WiiiUI, select tools then emulator disc creator.
Select the console you want to emulate an click build image.
Click on create disc and the cmd should pop up again to make the ISO.
Now you can make 2 or 3 iso's and use the multiboot disc at the top to put them all on one disc to play in your Wii.
Regionfrii
Start WiiUI click on tools then Regionfrii.
Now you need to select the ISO you want to change.
After selecting the iso you need to select the region you want to change it to last click on update ISO there you go all finished the ISO is ready to burn remember to burn it slow.
ISO Unscrambler
Create dummy file
Gamecube tool
Burn image
Select the ISO you want to burn.
Now the speed and drive you want to burn to and click burn.
Requirements
Compatibility
History
Download
Acknowledge
Chossy (2007) (Developer)
tpepsiman (Tutorial)
See Also