Wii USB Compatibility List
From WikiTemp, the GBAtemp wiki
Since the 3.0 update & the release of Boogie, the Nintendo Wii has added support for Keyboards & Microphones. This is a chart of USB devices found to be working or not Working with the Wii Console.
USB Keyboards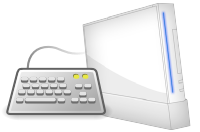 Since the 3.0 update, the Nintendo Wii has support USB Keyboards for typing mail and memos on the Wii Message Board, searching on the Wii Shop Channel (you can type game names in the search box) and maybe on Internet Channel soon...
It is possible that Nintendo or a 3rd Party may release a USB or Bluetooth Keyboard for the Wii. Nintendo and Logitech have confirmed that they are giving support for a USB keyboard (the Classic Keyboard 200) for the Wii.
By the way, it is possible that Nintendo has added support for other USB devices on firmware 3.0.
Wii Channels
Supported
Wii Menu
Wii Shop Channel
Unsupported
Everybody Votes Channel
Wii message board
Compatible USB Keyboards
Brand
Name
Comments
Apple
USB Mac Keyboard
Belkin
Nostromo™ SpeedPad n52
Works as a half keyboard. The D-pad works like the cursor keys. Scroll wheel, wheel button and red button do not work.
Compaq
USB Keyboard
Dell
USB Keyboard
HP
Wireless Keyboard/Mouse combo
Mouse does not work
Memorex
USB Keyboard
IBM/Lenovo
USB Keyboard with UltraNav
Mouse does not work. (Both Trackpoint and Ultranav)
IBM/Lenovo
Rapid Access II Keyboard
Extra buttons (Cd Player, etc) do not work.
Logitech
G11 Gaming Keyboard
Logitech
Classic Keyboard 200

Wireless ex 100 only keyboard, mouse not work


Macally
iKEYSLIM (Mac compatible kb)
Volume, eject & power buttons naturally do not work; however 2 USB pass-through ports are functional
 ??
N-JoyIt Keyboard
Zippy
Slim Illuminated Keyboard EL-715
Microsoft
Microsoft Sidewinder Keyboard X6
Unsupported
| Brand | Name | Comments |
| --- | --- | --- |
|  ?? | Noname 'Model NO.F21 XP1' Multimedia Keyboard | |
Bluetooth Keyboards
| Brand | Name | Comments |
| --- | --- | --- |
|  ?? |  ?? |  ?? |
Key's functions
Media Keys do nothing
F4 : show/hide words help filling
ALT + ENTER : Accept, Enter
ALT + BACKSPACE : Return
ALT + ESCAPE : Return
ALT + SPACEBAR : 2 spaces
CTRL + SPACEBAR : 2 spaces
CTRL + ALT + E : Euro sign "€" (not shown on old keyboards)
External links
USB Microphones
USB microphones are found to function for audio input in the EA game "Boogie". They can not yet be used with the browser or anywhere else.
| Brand | Name | Comments |
| --- | --- | --- |
| Logitech | USB Headset for PS2 | Works with Boogie. |
USB Hubs
USB hubs should allow the use of other known functioning USB devices.