Updating the AK2i Bootloader
From WikiTemp, the GBAtemp wiki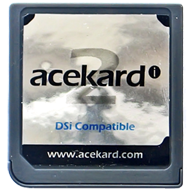 On July 30, 2009 Nintendo released firmware version 1.4 for the DSi, the first firmware version to block flashcarts. While the update is optional, you must install the firmware update if you wish to use the DSi Browser or DSi Shop (~DSi Ware). The Acekard 2i features an updatable firmware of it's own to protect against such measures by Nintendo. It took only two weeks for a workaround to be released for the Acekard, in the case of the Acekard it identifies itself to the DSi as the Danny Phantom retail cartridge.
This workaround comes in the form of a downloadable firmware update which updates the Acekard's internal bootloader. You must perform this update for your Acekard 2i to work on a DSi or DSi XL firmware version 1.4, if you don't update your Acekard's firmware will get the following error message when you attempt to boot:
An error has occurred. Press and hold the Power Button to turn the system off. Please see the Nintendo DSi Operations Manual for help troubleshooting.

It is not possible to downgrade the DSi's firmware at this time.
Before you begin
The firmware update can only be performed using a DS Phat/ DS Lite or a DSi with FirmWare version =< 1.3, there is no way round this. All recent DSi & DSi XL consoles will come preinstalled with firmware 1.4. If you don't have access to a DS Phat/ DS Lite or a DSi with FirmWare =< 1.3 you *must* purchase your Acekard 2i from a retailer such as 0ShippingZone or LeetMod (charge an additional $1) who will update the cart to 1.4 before shipping.
Even if you intend to use your AK2i with a DS Lite, you should still consider updating your Acekard's firmware incase your DSL breaks and you later replace it with a DSi. If you have your DSi on FW =< 1.3 you should consider updating your Acekard too, incase someone else unknowingly updates your DSi to firmware 1.4.
After updating the Acekard will appear in the DSi menu as Danny Phantom, on the DS Phat/ DS Lite it will still appear as Acekard.
Updating the firmware on any device comes with a degree of risk, the Acekard is no exception to this. If an error or interuption occurs during the flashing process, it may leave your Acekard in an inoperable state (bricked). While this is highly unlikely, it's something you should be aware of before flashing. There are several things you can do to minimize the risk of bricking your cart:
Ensure the battery on your DS is fully charged and plugged into the mains charger.
Have a verified working install of AKAIO and a MicroSD card formatted with the Panasonic MicroSD formatter.
Familiarise yourself with the AKAIO interface.
Copy the firmware update files from the MicroSD card to another device, if sucessfull this ensures the files on your MicroSD card are 100% readable.

In a worst case scenario it is possible to unbrick an Acekard which has been previously bricked by the flashing procedure, but you will require a DS Phat or DS Lite and another flashcart in order to do so.
Downloading the update
You can download the update from http://www.mediafire.com/?n4nm0i5dmtm , extract the downloaded file to the root directory of your MicroSD card. Upon extraction you should have two files, ak2ifw_update_14_DSi_new.nds and ak2ifw_update_14_DSL_new.nds.
Many people believe that ak2ifw_update_14_DSi_new.nds is to be used on the DSi and ak2ifw_update_14_DSL_new.nds is to be used on the DS Lite, this isn't the case. ak2ifw_update_14_DSi_new.nds is used to update a single cart, and can be used on the DS Lite, DS Phat and DSi FW =< 1.3. In most cases this is the file you should use because there's less chance of anything going wrong. ak2ifw_update_14_DSL_new.nds is used to update multiple carts and also unbrick an Acekard previously bricked by either update. This file only runs on the DS Lite or DS Phat.
There is an older version of the update which some guides/ website still reference, you should use the one from here. The older version has problems updating some carts, specifically some cards will sit at 0% progress on the flashing screen. Some sites (gamekool) will tell you to use the R4i Ultra update instead, this is no longer necessary. The updated tool addressed this issue.
The latest version of the firmware update can always be found @ http://gbatemp.net/index.php?showtopic=174523 

Updating a single cart
This can be perfromed using a DS Phat/ DS Lite/ DSi <= FW 1.4
Boot your Acekard and run ak2ifw_update_14_DSi_new.nds
It takes you straight to the firmware update screen

Press (start), after the update is complete it gives you the following message:

The update is complete, you can now power off the console.
Updating Multiple carts
This can only be performed using a DS Phat/ DS Lite
This is primarly used by retailers or people who are going sell on their Acekard's. It allows you to update multiple Acekards in quick sucession. There is no need to swap memory cards, reboot the NDS or reboot into Acekard/ AKAIO between flashings.
Boot your Acekard and run ak2ifw_update_14_DSL_new.nds.
You will get the following prompt:

Eject your cart and insert the first cart you wish to update. Press (B) and you get:

Press (start). Once the update is complete you get the following message:

Eject the cart and insert another. Press (start) and it will start flashing immediately, it will give no warnings, prompts or ask for confirmation. Repeat the process for as many carts as you have.
Unbricking a bricked cart
This can only be performed using a DS Phat/ DS Lite
Boot your Acekard and run ak2ifw_update_14_DSL_new.nds. This can also be run on any working cart, it doesn't have to be an Acekard because it's not going to update the cart you launch it on. You are just using it to get the update into the DS's memory so you can eject the cart.
You will get the following prompt:

Eject your cart and insert the cart you wish to unbrick. Press (B) and you get:

Press (start). Once the update is complete you get the following message:

Important: power off now! Do NOT press (start).
Firmware 1.5+
Currently 1.4 is the lastest firmware. If a new firmware version is released, it will be featured on the GBAtemp.net home page. If released, do not update your DSi's firmware until either it's confirmed to work with the Acekard or another work around is found.